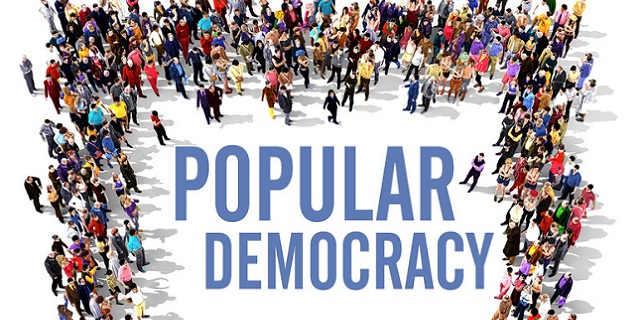 Book Launch
Book Launch | Popular Democracy, by Gianpaolo Baiocchi and Ernesto Ganuza
01/30 Monday | 6pm
The Institute for Public Knowledge at NYU invites you to join us for a book launch celebrating the release of Gianpaolo Baiocchi and Ernesto Ganuza's Popular Democracy: The Paradox of Participation. The authors will be in discussion with Daniel Aldana Cohen, Caroline Lee, and Sanjay Ruparelia.
Local participation is the new democratic imperative. In the United States, three-fourths of all cities have developed opportunities for citizen involvement in strategic planning. The World Bank has invested $85 billion over the last decade to support community participation worldwide. But even as these opportunities have become more popular, many contend that they have also become less connected to actual centers of power and the jurisdictions where issues relevant to communities are decided. Indeed, Popular Democracy shows how participatory instruments have become more focused on the formation of public opinion and are far less attentive to, or able to influence, actual reform. Though the current impact and benefit of participatory forms of government is far more ambiguous that its advocates would suggest, Baiocchi and Ganuza believe that there are ways participation could better achieve its political ideals.
---
Gianpaolo Baiocchi is Associate Professor of Sociology at New York University and the author of Militants and Citizens: The Politics of Participatory Democracy in Porto Alegre (Stanford 2005) among others. He heads NYU Gallatin's Urban Democracy Lab, which launched in 2014 and provides a space for scholars and practitioners to collaborate and exchange ideas for cultivating just, sustainable, and creative urban futures.
Ernesto Ganuza is a sociologist at the Spanish National Research Council (CSIC) and the Secretary of the Revista Internacional de Sociología (RIS). His research interests include citizen involvement in public administration and the issues faced by democratization in our modern political environment.
Daniel Aldana Cohen is Assistant Professor of Sociology at the University of Pennsylvania. With Kate Aronoff, he is the co-host of Hot & Bothered, a podcast on climate politics hosted by dissent magazine. He focuses on intersection of climate change, inequalities of race and social class, and the political projects of both elites and social movements in urban spaces.
Caroline Lee is Professor of Sociology at Lafayette College, with an affiliate appointment in the American Studies Program. Her current projects explore the intersection of social movements, business, and democracy in American politics. One of those is a book called Do-it-Yourself Democracy (Oxford University Press 2015) based on her ethnography of the public engagement industry. She has also edited Democratizing Inequalities (NYU Press 2015) alongside Ed Walker and Mike McQuarrie.
Sanjay Ruparelia is Associate Professor of Politics at the New School. His research addresses the politics of democracy, equality and development in the postcolonial world, and the prospects and difficulties of power-sharing in federal coalition governments, among others. He is the author of Divided We Govern: Coalition Politics in Modern India, which was released in 2015 by Oxford University Press.